Edogawa Rampo, Founder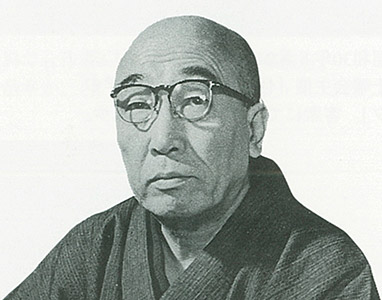 William Varteresian
All Japanese names are presented in their original order, last name first. In the case of the pen name "Edogawa Rampo" "Edogawa" is the surname and "Rampo" the given name. When only one name is used, the author is referred to as "Rampo" in accordance with common Japanese usage.
Few authors can be said to have had a greater influence on the development of Japanese mystery fiction than Edogawa Rampo (1894–1965). In a literary career that spanned over forty years, Rampo penned a succession of wildly popular detective stories aimed at both mature and young adult readers. Rampo was also active as a critic and theorist of detective fiction, publishing numerous essays and later acting to promote other Japanese mystery authors and the mystery genre in general. In both capacities, Rampo's work helped to develop Japanese mystery fiction into a distinctive national tradition and to establish the genre's enduring popularity.
Born Hirai Tarō on October 21st, 1894, in Mie Prefecture, Rampo became enamored of mystery fiction at a young age through Japanese translations and adaptations of Western detective stories by writers such as Kuroiwa Ruikō (1862–1920), the journalist whose adaptations of works by Èmile Gaboriau, among numerous other authors, first sparked many Japanese readers' interest in the modern mystery genre. When he graduated from Waseda University in 1916 with a degree in economics, Rampo felt that Japan offered no opportunities for the creation of original mysteries, and took a series of odd jobs around Tokyo and Osaka. For seven years Rampo worked as a used bookseller, a newspaper reporter, and a noodle vendor, among other occupations. At the age of 28, Rampo finally saw print in the April 1923 issue of the magazine Shin-seinen (New Youth), which often featured translated detective stories. His short story "The Two-Sen Copper Coin" (1923), a witty mystery that centers on an ingenious cipher, was the first full-length detective story by a Japanese author. The piece was billed as a match for popular Western entries in the genre.
It was at this point that Edogawa Rampo assumed the pen name by which he is most widely known, and which he crafted as a kanji transliteration of the name of Edgar Allan Poe. In the same way that Poe is frequently regarded as the progenitor of modern mystery fiction, Edogawa Rampo is often regarded as having kickstarted the genre's development in Japan.
Following the publication of "The Two Sen Copper Coin," Shin-seinen attracted many new mystery writers and became the genre's most representative publication in pre-World War II Japan. Rampo continued to publish regularly throughout the following decade, producing a diverse body of work ranging from the chilling and grotesque "The Human Chair" (1925) and Beast in the Shadows (1928) to the comparatively lighthearted capers of The Black Lizard (1934). In 1925 he introduced his most enduringly popular character, the private detective Akechi Kogorō, in the short story "The Case of the Murder on D. Hill". Akechi ultimately went on to appear in 13 novels and 8 short stories, as well as a series of more than two dozen novels and short stories aimed at young readers (1936–1962). Numerous other authors have since produced adaptations, pastiches, and parodies of Rampo's Akechi stories across a wide range of media including novels, films, television serials, comic books and video games. Akechi Kogorō, along with the Boy Detectives Club led by his assistant Kobayashi Yoshio, and their rival The Fiend With Twenty Faces, is probably the most recognizable character in all of Japanese detective fiction.
During the Second World War government censorship intensified, placing severe restrictions on the content of published fiction. Crime and detective fiction in particular came under heavy scrutiny, and Rampo worried that his life as an author might be at an end.
Shortly after the war, Rampo resumed his previous literary activities. Although far less prolific a writer of fiction than he had been in the prewar period, Rampo's output as an essayist expanded throughout the 1950s as he increasingly shifted his attention from the production of detective fiction to its analysis and promotion. As the editor-in-chief of the mystery magazine Hōseki (Jewel), Rampo did much to promote the genre's emerging talents.
Rampo played a key role in the formation of Mystery Writers of Japan. In 1955 the organization gave out the first Edogawa Rampo Prize, an award for unpublished mystery novels which has continued to be awarded annually ever since. The prize has helped to launch the careers of numerous prominent mystery authors, including Togawa Masako, Higashino Keigo, and Kirino Natsuo.
Rampo passed away due to a cerebral hemorrhage on July 28th, 1965. He was 70 years old and left behind him a legacy that continues to have a profound influence on the genre in which he wrote.
My Favourite Mystery #1
by Yokoyama Hideo
Hako no naka no shitsuraku (Paradise lost in the box) (Takemoto Kenji)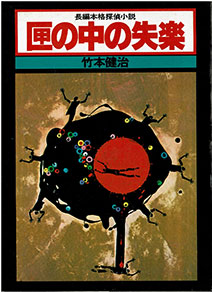 I am perhaps the prime example of one of those writers who wants to write books rather than read them, and so for me to read a book is to perform "an extraordinary act." It could also be said that I harbor an extraordinarily high expectation of each book that I read. I have always been like this. Once I decide to read a book, then I tidy up my room, wipe my table clean and wash my hands thoroughly with soap. Only after this do I sit and closely examine the cover of the book, muttering to myself, "If you're no good, then I'll kill you."
With this book, too, I hurriedly completed this ritual and then started to read it. Far from me killing the book, it killed me! Drawn into the labyrinthine maze of the plot, it became impossible for me to turn back. I felt the pleasure of drowning in a sea of knowledge. As one locked room led to another, the solution to each riddle only begat another one in its place, and each unexpected twist in the story turned out to be just one step towards the next unexpected twist. Now, twenty years since I read the book, I cannot even recall the plot to my mind.
It is because of experiences like this that I cannot stop reading books. Although I only do it occasionally, I will doubtless once again summon up my determination and wash my hands with soap.
(Written in June, 2003)
Translated by Adrian Pinnington
***
Information (Translated by Kimura Jiro)
[Writer's Profile]
Yokoyama Hideo (横山秀夫) was born in Tokyo in 1957. The former newspaper reporter won the 1998 Matsumoto Seicho Prize for his short story, "Season of Shadows" (original title:「陰の季節」"Kage no Kisetsu"), and it led him into crime writing. His police fiction has the distinctive characteristic that it features desk police officers rather than field investigators. His short story, "Motive" (original title:「動機」"Dōki"), won the 2000 MWJ Award, and it was published in the May 2008 issue of Ellery Queen's Mystery Magazine. His novel, Six Four (Quercus, London, 2016; original title:『64 Roku Yon』, 2012), was shortlisted for the 2016 CWA International Dagger Award, and he was the first Japanese writer to be a Dagger Award finalist. More than a half of his works have been published in Taiwan and mainland China, and more English translations are expected to come out in the near future.
[Writer's Favorite Mystery]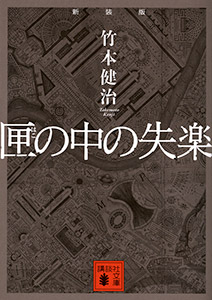 Hako no Naka no Shitsuraku (『匣の中の失楽』Paradise Lost in the Box, 1978) is Takemoto Kenji's (竹本健治, 1954- ) first novel. He wrote it in his 20's, and it was appreciated highly by mystery aficionados, and dubbed "the fourth strangest book of the Japanese mystery fiction," chronologically following Oguri Mushitaro's Kokushikan Satsujin Jiken (小栗虫太郎『黒死館殺人事件』Chateau Plague Murder Case, 1935), Yumeno Kyusaku's Dogura Magura (夢野久作『ドグラ・マグラ』Dogra Magra, or the Inferno in the Brain, 1935), and Nakai Hideo's Kyomu e no Kumotsu (中井英夫『虚無への供物』An Offering to Nothingness, 1964). Although it has been published both in Taiwan (as『匣中的失樂』) and in mainland China (as『匣中失樂』), none of his works have been translated into English. Takemoto used to be a cult figure loved by a small number of hard-core mystery readers, but his readership is now growing as his recent novel, Ruikō Meikyu (『涙香迷宮』Ruikō Labyrinth, 2016), has been highly praised and placed on the annual best mystery lists of several media outputs. This novel is centered on the ciphers Takemoto made up himself as if they had been left behind by Japanese mystery pioneer Kuroiwa Ruikō (黒岩涙香, 1862-1920).
The information on "My Favorite Mystery" column will be coming along soon.